Last month, the Federal Communications Commission (FCC) pledged $167 million to help operators deliver high-speed internet to 60,850 rural homes and businesses in the United States. This is in addition to the government already issuing $4.53 billion, as part of the FCC's Mobility Fund Phase II, to support the expansion of 4G LTE into "primarily rural areas". 
On 10th July, FCC Chairman Ajit Pai also announced his proposal for the Rural Digital Opportunity Fund, distributing $20.4 billion over the next 10 years to connect 700,000 homes in the "hardest-to-serve corners of the country." 
However, both Republicans and Democrats have widely criticised the coverage maps that the FCC have historically used to identify areas for funding - mainly due to the complexity of poorly defined geographic areas, imprecise sampling, and the lack of an independent audit, especially in communities with the fewest consumers, and correspondingly, the least amount of data. 
Marguerite Reardon explains that the maps either overstate or understate the availability and performance of internet services across the country. And Ajit Pai has temporarily suspended the mobile internet subsidy program, saying, "We must ensure the data is accurate before we can proceed".
477 data, strengths and weaknesses
There is a well-established process for operators to report wireline and wireless coverage, which started in 2000. Every six months, internet service providers (ISPs) and cell carriers self-report their subscription data by filling out something called Form 477.
Form 477 divides the country into census blocks and requires operators to tag each of the census blocks they serve. The result is the most accurate aggregate dataset publicly available.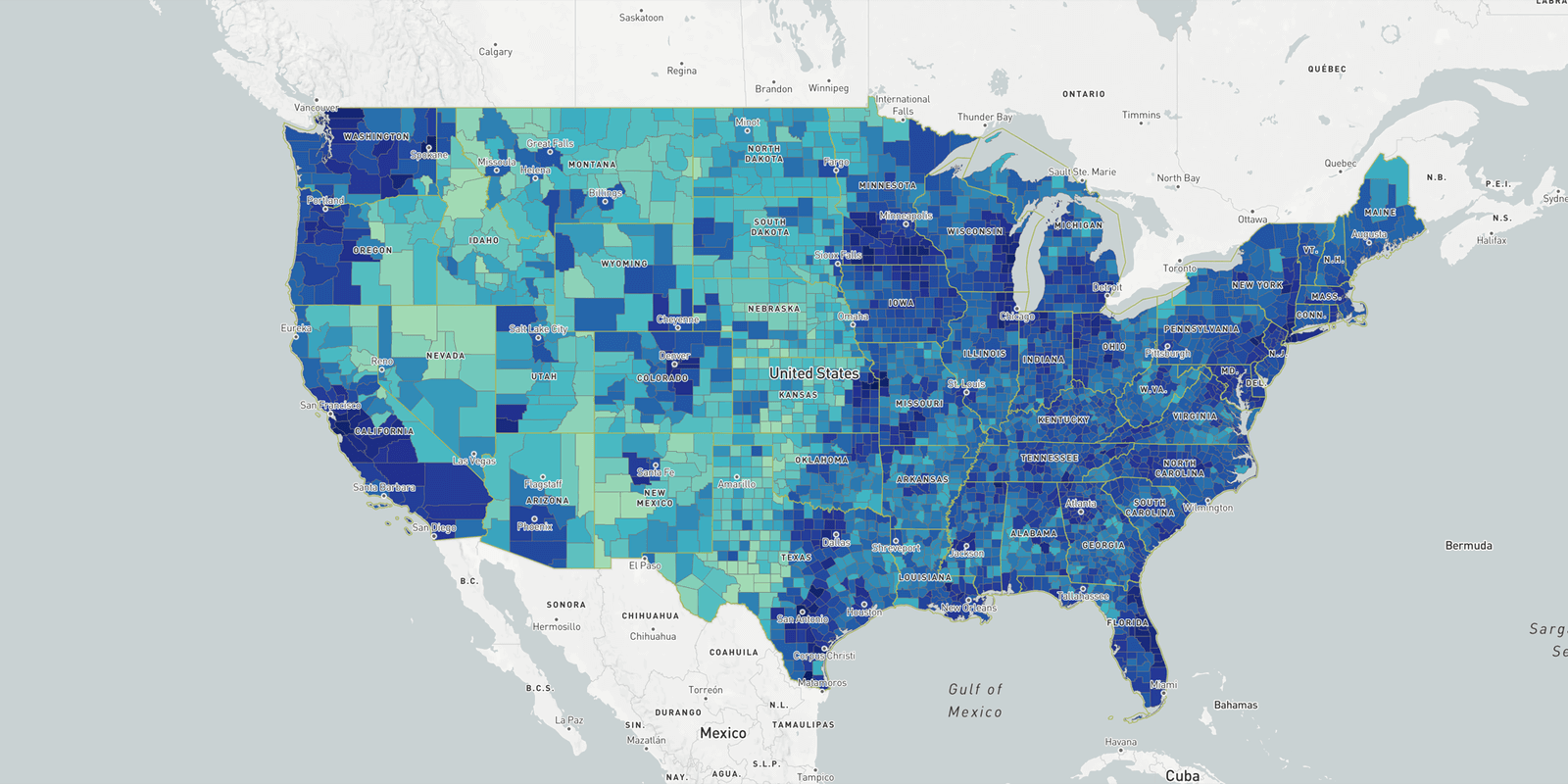 Wireline coverage map
In 2017, the FCC expanded the purpose of the 477 data to include the creation of wireline coverage maps. However, the Form 477 Data Program was only originally intended for 'counting heads', and not mapping, which is where some big problems arise. 
Census blocks, as Rani Molla explains, are "imprecise", and range "from a tenth of a mile to 8,500 miles". And, as Jon Brodkin points out, "if an ISP provides internet to just one home within a census block then the entire block is considered to have internet access."
The problem with this, as Kathryn de Wit, Manager of the Broadband Research Initiative for the Pew Charitable Trust, says, is that "if a community is considered served, in many cases they're no longer eligible to receive funding."
But gathering sufficient data for wireless coverage maps is particularly challenging, especially in sparsely populated communities. The dynamic nature of a user's connection, which varies according to terrain, network congestion, nearby buildings, user location, type of cell phone, and even the weather, is difficult to capture. Although the FCC do not use the wireless data to create maps, they do use the data to direct funds from the Mobility Fund Phase II program, and so have received similar criticism.
To try and mitigate this, cell carriers submit polygons in shapefiles to the FCC, to digitally report on areas where a consumer could expect to receive the minimum speed advertised for that location. They also report the census tracts where their service is advertised and available to potential customers. Even so, the data only allows for coarse mapping because for more accurate maps, you need a lot more data. 
Balancing cost and scientific rigour
Calls for larger and more accurate datasets have rumbled for years but finding a solution has proved easier said than done, mainly due to the extraordinary cost of sending regulatory operatives to every state in the U.S. to take scientific measurements.
Lobbying group USTelecom wrote to the FCC to say that it would take "significant time and expense"  and be "unduly burdensome" for ISPs to provide any data more granular than at the census-block level, with the added risk that it would "not be nearly as accurate as the data the Commission has today."
Likewise, the FCC is careful to see how it can "reduce burdens on industry by eliminating unnecessary or onerous data filing requirements" when adopting a Further Notice of Proposed Rulemaking on August 3, 2017. And Ajit Pai has also maintained that the FCC should reduce requirements imposed on telecom operators: "every dollar spent complying with unnecessary regulations is a dollar that could be have been better spent deploying next-generation technologies". 
But the question still remains - how do you extend the 477 dataset in order to map internet coverage and ensure funding goes to areas that need it most?
Empowering citizens to self-report 
The answer is to create a complimentary dataset to sit alongside the 477 data. The FCC Speed Test App, which has been available to the public since 2013, allows citizens all over the U.S. to run their own internet performance tests and check their results on their phone. All the anonymous results are stored and visualised in real time via SamKnows One, our cloud-based data platform, for the FCC to analyse as well.
FCC Speed Test App
And whether you're using the app to initiate a test on the spot, or running continuous tests as you travel, SamKnows One maps your results and provides a satellite mode so that you can quickly assess how terrain could affect performance, or how difficult it could be to extend service to a particular area. Most importantly, the data the app collects provides a detailed record of internet performance in places where people live, and so solves the problem of a lack of data in rural areas. On top of this, the app's data can also be used to augment the 477 wireline data and coverage maps.
Ajit Pai has already praised the app for being a "useful tool for assessing service availability" and stating that a "continuous public feedback mechanism will improve the Commission's broadband coverage maps and its Form 477 data". 
Senators Amy Klobuchar and Shelley Moore Capito also champion the FCC Speed Test App as the way to "produce maps that more accurately reflect the real experiences of consumers in the places they live and work." In a letter to Chairman Pai, dated September 2018, they wrote: "The FCC's Speed Test App allows consumers to take sophisticated measurements about the quality of service in a particular area" and proposed that this data "be used to ensure maps do not overstate coverage."
In his article 'When Opportunity Knocks', Chairman Pai also suggested "that we verify those maps through crowdsourcing". Because even if the FCC were able to generate more granular data, the lack of an independent audit means that consumers may continue to distrust the data.
Last year, the Rural Wireless Association (RWA), said that Verizon had filed "a sham coverage map as a means of interfering with the ability of rural carriers to continue to receive universal service support in rural areas". Verizon responded, saying: "We are confident that our Mobility Fund map is fully consistent with the FCC's mapping specifications." Although the investigation is ongoing, public and industry confidence in the 477 data has fallen further.
Scientific auditing of data
The SamKnows Cell Audit app is quick to deploy and perfect for inexpensive and independent quality checking to verify operators' coverage data. Originally developed to map network coverage following a natural disaster, the app runs on standard Android headsets. Agents travelling around targeted areas can run a series of tests (download, upload, and latency) in a continuous cycle to check for signal availability. The app also collects an enormous amount of environmental data alongside each test, and shows areas where no internet connection is available. 
Selecting samples from a large dataset is a quick way to check all data is accurate. By adding a new audit to the established process of self-reporting, it is suddenly possible to find problems in the collection methodology. Ongoing issues with the data can be fixed and over time the accuracy of the whole dataset will improve. And with this important new quality control, the confidence in the data will increase.
As the FCC combine the 477 data with the data collected from the Cell Audit and FCC Speed Test apps, they will have the largest and most reliable dataset possible, at the least cost. If you would like to find out more about the SamKnows Cell Audit app or Rapid Build Framework, check out our technology section on the SamKnows website.