3 years - what we've accomplished
'Fibre Max data speeds increased by one-third between September and December last year after industry fixed performance issues highlighted by the programme. 
Telecommunications Commissioner Tristan Gilbertson makes regulatory recommendations to the government and assesses competition in the telecommunications industry for New Zealand, and is as excited about its future of Measuring Broadband New Zealand as as we are:
It's great to see this report confirming that industry has locked in these gains for Fibre Max customers. It shows the programme is working for New Zealand consumers and should be extended.
Since the program began in 2018, 8 reports have been published throughout key events in New Zealand and the world, such as the 2019 Rugby World cup and of course, 2020's  Covid lockdown. Measuring Broadband New Zealand (MBNZ) played a vital role in uncovering underlying issues and improving performance for Fibre Max customers across a number of RSPs, shown in the Fibre Max report.
Thanks to collaboration between SamKnows, ComCom, various RSPs, and the help of thousands of volunteers hosting Whiteboxes, Fibre Max customers across New Zealand saw an average increase of 35% in download speed following network changes.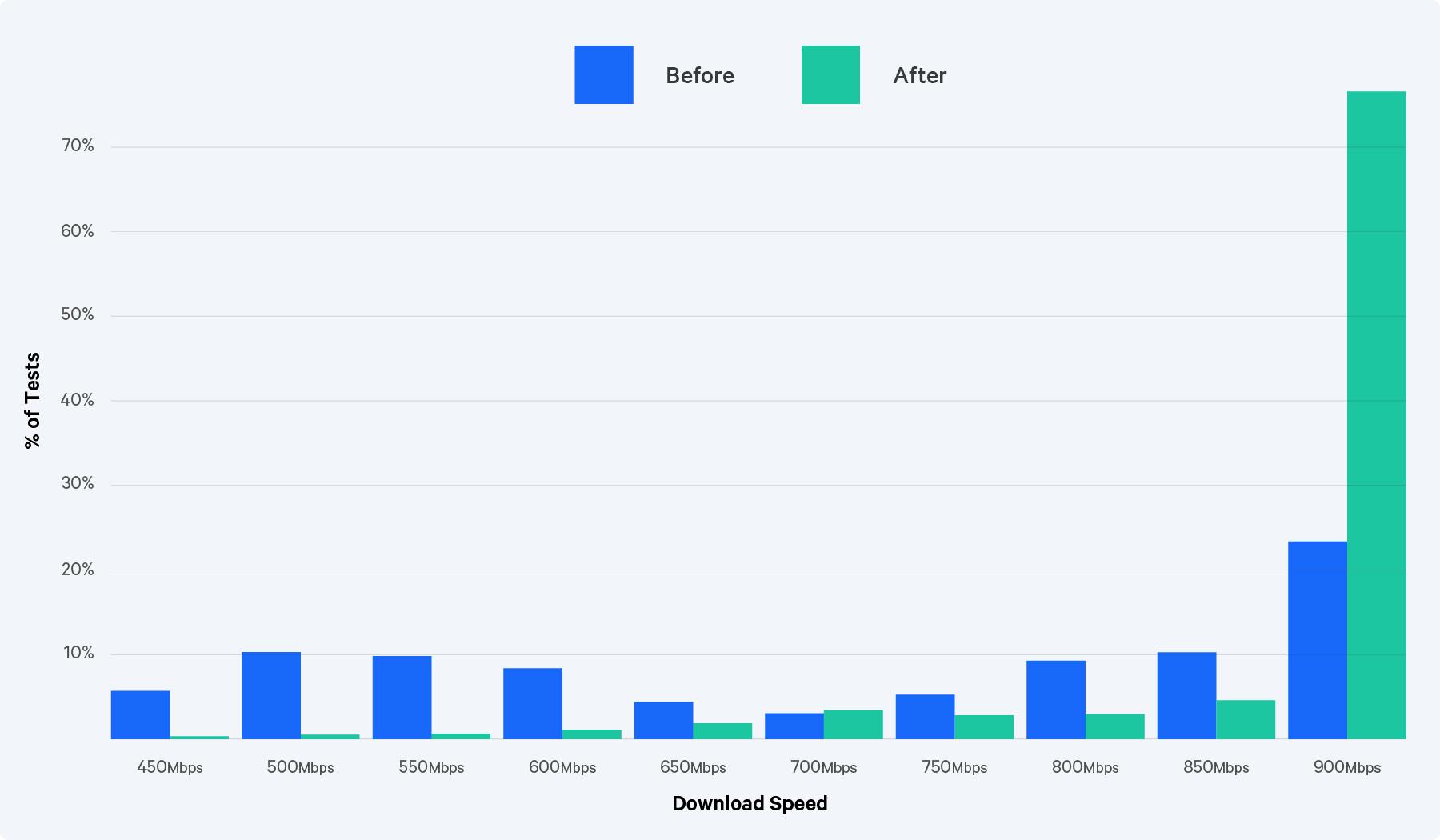 Massive speed increase for many Fibre Max customers
The Commission created a Tabelau dashboard using the SamKnows data set, which allowed New Zealanders to easily view and manipulate network performance data collected by the program. This way, customers can filter results by broadband packages relevant to them, and view charts they're interested in, providing an efficient way to understand their internet service better. 
Now the extension of the Measuring Broadband New Zealand program will mark the launch of a new phase with a focus on application performance. 
A future with faster performance 
Moving forward, we've begun to include results from Vodafone HFC Max customers in our data. This plan is marketed as a rival to Fibre Max, but delivered over Cable rather than Fibre. HFC Max have been included in the last two reports giving New Zealanders even more visibility on how their plans and RSPs compare. 
In the coming year, we'll be including results from new gaming tests in future reports. This will give a much more detailed view of the online gaming experience across a lot more widely played titles. Not only expanding our data by measuring top online games such as Apex Legends, Fortnite and FIFA 21, but also newly popular games like Valorant, Rocket League, Among Us, and many more.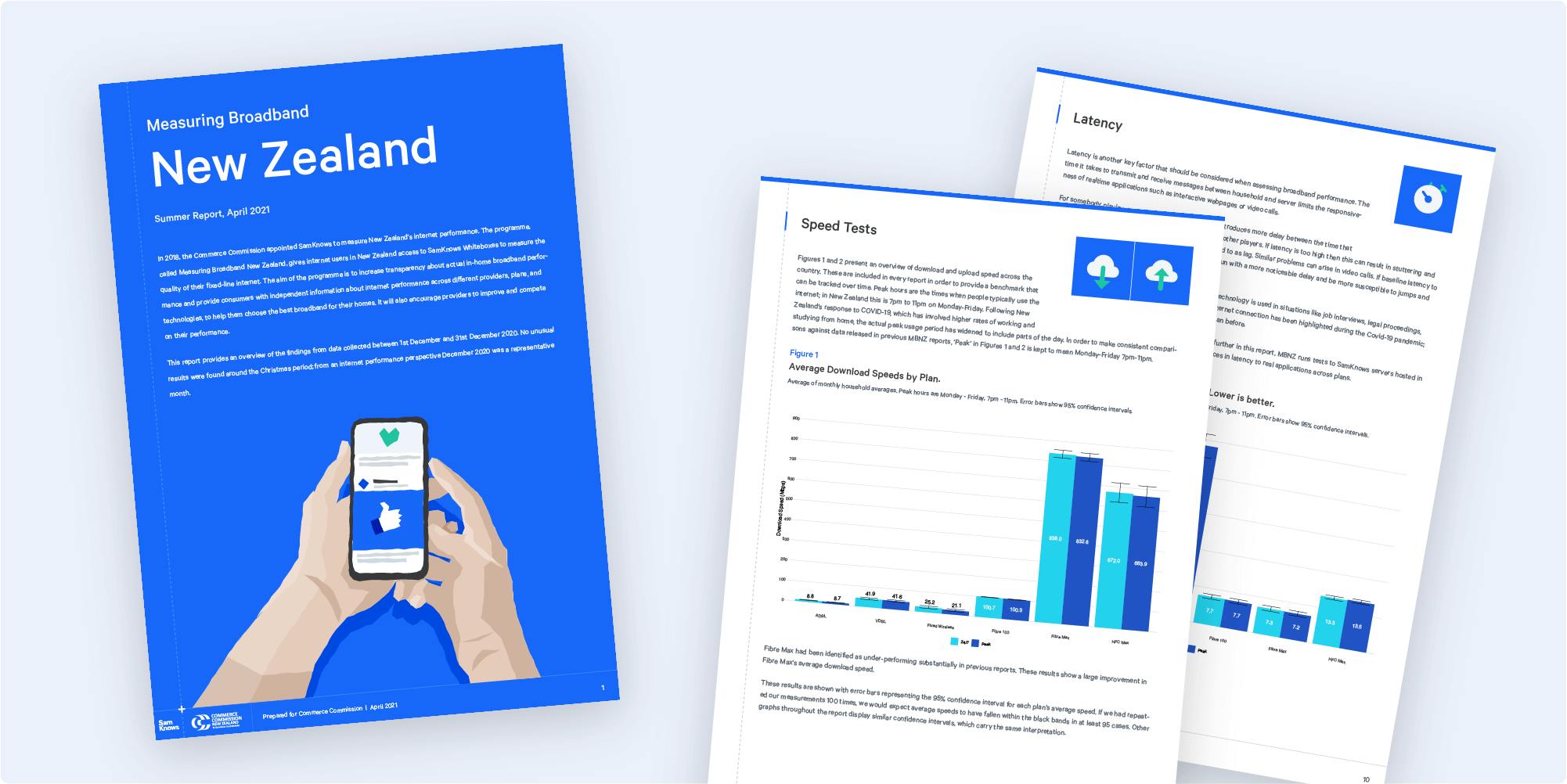 Measuring Broadband New Zealand reports
Also, we'll now be including Latency Under Load test results in future reports. Latency Under Load tests latency while the line is in use, rather than when it's idle, so it gives people a better idea of their actual experience of internet performance, particularly when it comes to things like streaming, gaming, video calls, etc. 
Mr. Gilbertson has said the extension of the SamKnows contract will provide continuity for consumers while the Commission considers longer-term options for measuring broadband, including in-home WiFi experience and, potentially, the measurement of mobile coverage and performance. Which is great news for New Zealand, and for us! 
View the latest MBNZ report here. And if you'd like to find out more about this program and how we can help you improve your connected future, please get in touch below!