When Samira, our tennis-loving and husky-mad Android developer, asked us to support her initiative to teach young girls how to code, we were excited to help.
Three years ago, we set out on a mission to improve our inclusivity. Along the way, we were shocked by the lack of diversity within the tech industry, and are committed to doing more to counter this.
Samira's Project Margaret Hamilton is the perfect opportunity. Led by the female developers of SamKnows, it is an active response to the gender gap in tech professions today. The project provides fun coding classes to school girls aged 12-16, for free, and swaps unhelpful myths abut careers in tech with real insight. All pupils will have the chance to meet people from different departments at SamKnows, and learn about the lucrative careers the industry has to offer.
As part of this campaign, we sat down with Samira to ask her all about her job, why she loves programming, and to learn more about Project Margaret Hamilton.
Hi Samira, tell us something about yourself.
Sure! I'm Samira, I'm 28, and I live in London. I love travelling (I'm going to South America later this year), and I'm an Android developer. When I'm not at work, you can find me on the tennis court, spending time with friends, or in the pub!
What's an Android developer? 
Android development is fairly diverse and covers a range of things. Very simply, I build mobile apps for Android phones. If you're an Android developer, you'll likely configure the user interface that allows people to interact with the app (among many other things…)
So, what's better - iOS or Android?  
I don't think I can answer that - I like my iOS colleagues too much! I prefer Android because it covers such a big market and there are so many different devices using it but I wouldn't say that one is better than the other. I personally use an Android phone.
Have you always loved computers and coding? 
Not really. I played computer games when I was a child, along with everyone else, but coding was a mystery of weird numbers and letters to me, which I didn't know anything about.
So, you weren't "super techy" growing up? 
No - I think there's often a stereotype that people who study computer science or programming were really into computers during their childhood, and this puts a lot of people off from trying it out. I know lots of successful developers who were into computers, but also plenty who weren't. 
What sparked your interest? 
Funnily enough, it was journalism that got me into coding. I studied politics and communications at university, and I had my heart set on being a journalist. It wasn't until I interned at a big publishing house in Germany that I spent some time with developers and decided to explore programming instead. After that, I did an internship in Silicon Valley, where I learnt all about the different technical fields. I then joined a testing team in Munich for a year as a working student. 
How did you learn to code? 
I taught myself, and I also went to university. I learnt a lot from working on projects at companies when I first started out, but I was given a more rigorous training at university where I was taught Java, PHP, Matlab, and several other languages.  
And why do you like your job? 
I'm creative and I enjoy making new things that are tangible and that I can use - so programming is the ideal job for me. It's also intellectually challenging, which I love. Android is constantly developing new frameworks and using new languages, so you have to keep up. I also get to work with interesting people who are intelligent and ambitious, and that's inspiring.  
Do you have to have a certain personality to be good at it?   
Not at all. Tech is like working in any industry where you tend to do your best work when you're surrounded by people who think differently to you, and to each other. That way, you'll have many perspectives at hand when solving problems, and the chance to learn new things.
Have you always thought that? 
Actually… no! I have to admit I had quite a strong bias before I started programming. I thought you had to be incredibly clever and able to focus on only one thing for a long time. Of course, those things are important but they're not the whole job. And you don't have to be a genius to learn how to code. I soon realised this when I started working with other people. I've seen all sorts of people thrive and become outstanding developers.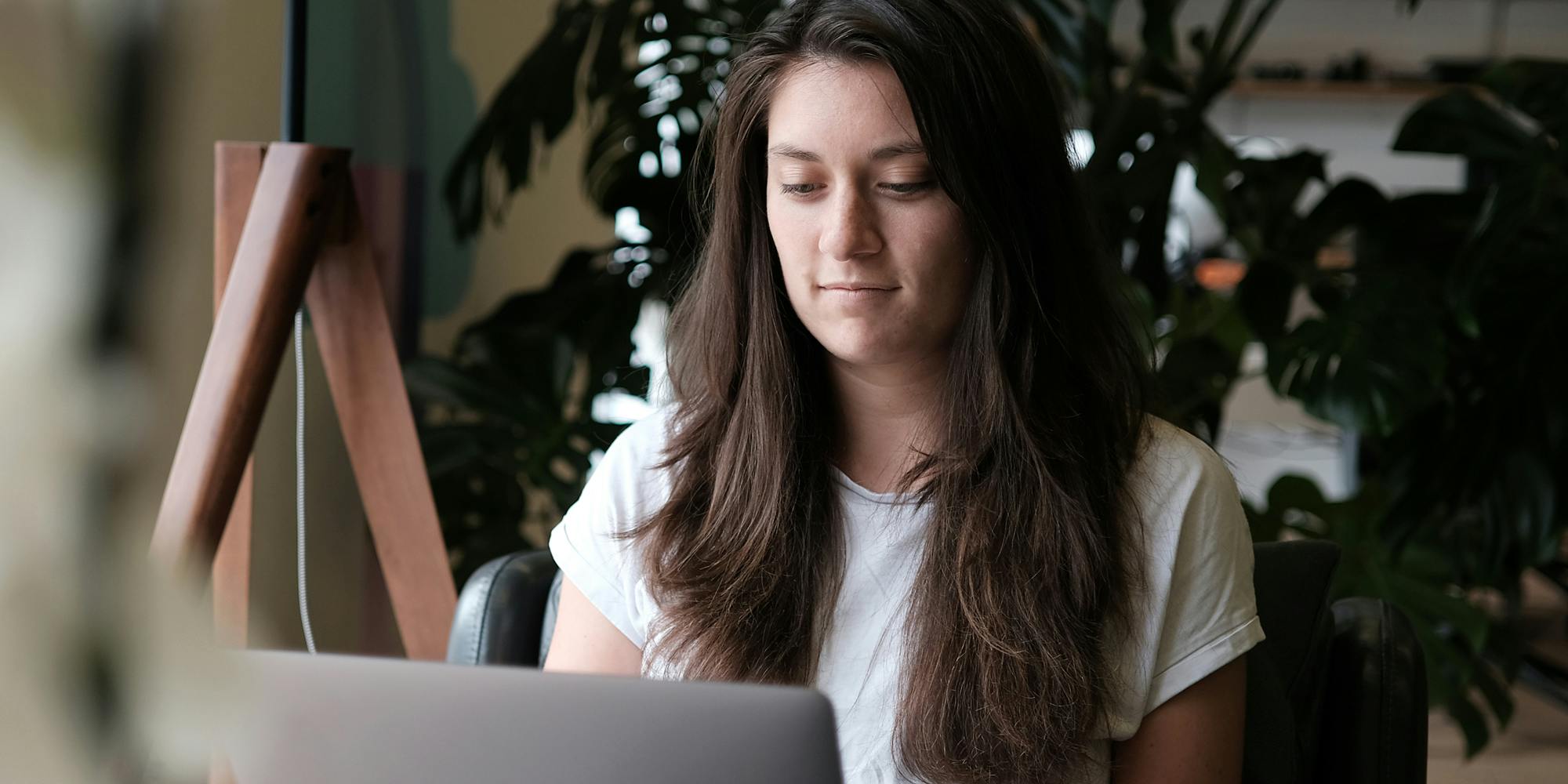 How many hours of your day do you actually code?  
It really varies. I work in an agile team which means that we can have days with a lot of meetings and only half a day coding. Or, I could code all day and get really stuck into what I'm doing.
Would you say that the tech industry is predominantly male?
Generally-speaking, yes. But not at the company I work for (the gender balance is pretty even here). But every company I've worked for previously was predominantly male. Only 17% of IT professionals in the UK are women.* However, in other countries, such as India, the gender imbalance is a lot less. The thing to remember is that there are lots of brilliant female developers out there, and I've worked with many, so don't let the stats put you off.  
How does that make you feel? 
Frustrated. Not with the people I work with - they're great! It's just that I would love to see more women take advantage of all the incredible opportunities this industry has to offer. Development is a great career. It's exciting, fast-growing, well-paid, and massively impacts the way we live our lives. There are a number of stereotypes that seem to discourage girls from considering coding as a career and I want to see this change. 
What would you say to someone who's interested in programming but doesn't know where to start? 
Give it a go! And try and do some work experience if you can, it's worth it. Interning helped me to break down my stereotypical view of what a programmer is and see how many different jobs there are in programming. If work experience isn't an option, try asking someone you know who codes to give you a challenge to complete. That way you can get quick feedback from someone who knows what they're doing, and can give you a realistic insight into the tech industry.
Do you need a qualification to be a programmer?
No, you don't need GCSEs, A levels, or even a bachelor degree. In fact, there's a low barrier of entry into this field. If you're interested in coding, go for it! There are so many resources nowadays, including Google, Codelabs, Udemy, and Codeacademy that can help you understand some of the subjects of programming.
Is it as hard as people make it out to be?
It is hard but it's not impossible. It's hard because programming is something you have to learn. You have to sit down, study, and practice what you've studied. It takes time for you to enter a senior position, or to feel confident and comfortable in your own ability, which is the same for any profession. Programming will frustrate you a lot but you have to see the task through. You need to make sure you have a thorough understanding of what you're doing, so be patient. The most important thing is that you're curious and motivated.
What are employers looking for?
Good developers are well-organised. When given a task, you'll be expected to go away and do it. Be prepared to work autonomously but never be afraid to ask for help, especially when you're starting out. 
What is a typical interview for a job like yours? 
Usually it starts with a phone call to talk about your experience and what you're looking for in a job. You'll then have a first-stage interview to discuss your skills and prove that they match your experience (so always be honest on your CV!). If all goes well, you'll have a follow-up interview with a technical lead, such as the CTO, for a coding assessment. Sometimes you do the coding assessment at home, other times you do it with the interviewer. You'll then talk about your results with the technical lead to demonstrate your approach to solving problems and that you have the right experience for the job.
And who would you say is your biggest inspiration?
Well, it has to be Margaret Hamilton. If you've never heard of her, look her up! She was in charge of writing the software that sent the first rocket to the moon, and was known for building ultra-reliable software design. I'm setting up a school programme to teach young women how to code, and I've named the project after her.  
Why did you set up Project Margaret Hamilton? 
My company takes equality very seriously and have supported me setting up this programme. I want to show young women what a career in technology looks like, and that it's not as scary as it sounds. It's also a lot of fun. I also want us to move away from the myth that you have to be a very specific type of person to be a developer, and that anyone can become one. To do this, we're offering a series of coding classes for girls aged 12-16 to develop their own apps, games, and websites.
When does it launch?
Well, lots of men and women at SamKnows are involved, and we're still working hard to put this together. We're making good progress and looking to launch in July 2019.
And what is your ultimate goal for this project? 
I want the project to have the widest reach possible, so we're designing it so that it can be easily replicated by other companies. Of course, it would be the dream to see more women become developers, and if we can be a part of that, that would be amazing! 
Finally, what's one piece of advice you would give to young people who want to work in tech?
Don't watch too many movies about development or technology because that will only show you one type of developer. And don't throw your laptop out the window, you'll get there in the end! 
* https://www.wisecampaign.org.uk/statistics/women-in-stem-workforce-2017/