And… it's out! The ACCC have released their latest report on the state of Australia's internet, using SamKnows One.
Kicking off in late 2017, this is the second major milestone for the ACCC's Measuring Broadband Australia, using SamKnows One to test, analyse, and visualise the vast quantities of data we collect on the quality of Australia's fixed-line services. SamKnows One is our cloud-based internet performance measurement platform, allowing a smooth set-up process for this project that was ready within a matter of weeks — so we could get stuck in and assist the ACCC with their aims to promote performance-based competition and increase transparency.
Following the Initial Findings Report of March 2018, this second instalment gives a more granular analysis on the performance of internet services provided by six major RSPs: Aussie Broadband, iiNet, MyRepublic, Optus, Telstra, and TPG.
The data collected for this July 2018 report was taken from over 145,000 tests running on SamKnows Whiteboxes — more than double the number of tests performed for the first report. The measurements then fed into SamKnows One for analysis. SamKnows One is stocked full of analytical features to help regulators keep track of their national internet performance with accuracy and ease.
And the results are looking promising…
Most NBN fixed-line users are experiencing relatively fast internet speeds, even during busy times of the day, with Aussie Broadband and TPG coming out on top. 70% of download speed tests achieved at least 90% of the maximum plan speed on the NBN, which is in keeping with the first report.
Figure 1, generated in SamKnows One, shows download as a percentage of maximum plan speeds for users on the most popular NBN fixed-line plans — 25Mbps, 50Mbps, and 100Mbps.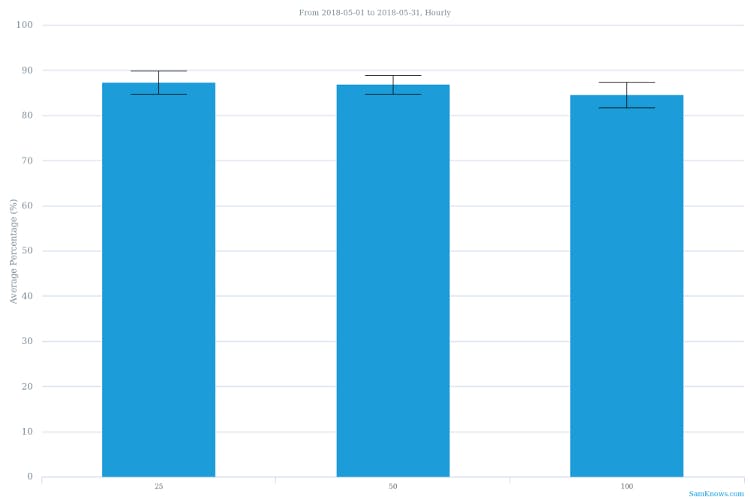 Figure 1
But some people aren't so lucky.
Around 7% of users are receiving less than half of the speed they've paid for. And some users are being sold services that don't come close to achieving the maximum plan speeds. These services are defined as "underperforming" of which "no more than five percent of the speed tests… achieved a speed that was above 75 percent of the maximum plan speed." July's report also explores how these services contribute to speed measurements, a revelation the ACCC are using to highlight better selling practices by RSPs, as well as to encourage service improvements that allow consumers to receive speeds closer to the maximum plan speed.
Rod Sims, chairperson of the ACCC, stated:
"While we are pleased to see that most customers are able to get fast, reliable broadband services even during busy hours, we must focus our attention on those who do not have this experience."
And you can volunteer to be part of the ACCC's drive to better the internet for everyone. Volunteers connect a free Whitebox to their router, which then runs a series of tests to a SamKnows test server when the line is not in use (so that it doesn't interfere with your internet experience.) The Whiteboxes don't record any personal information or browsing history, solely focusing on testing the quality of your internet connection. You can also access your own connectivity data in a simple version of SamKnows One so you know exactly what's going on.
So, if you live in Australia and want to get involved, sign up here.
And keep an eye out for the ACCC's next short report due later this year.