The work we do requires us to uphold our Devoted to Data value. We want to live our values not only in the internet measurement work we do, but in all aspects of our business including our own people data. And to measure improvement, first we need to look at where we are now.
Recently SamKnows welcomed with open arms two young people for an internship, where they worked on a project that involved collecting the internal demographics data of SamKnows. It was the first time we took a wider lens on measuring our demographics and there is room for improvement in the way we gather and report, but it was important to start. 
Collecting our people data to create an overview of the demographics of SamKnows helps us do the following:
Measure how diverse we currently are, in order to identify areas of improvement
Consider the representativity of the organisation when establishing new policies and ways of working
Avoid making assumptions about the demographics of the organisation
As a start, we are aiming to improve our diversity to align with that of London's demographics by June 2024. With this commitment  in mind, we can look at where we are now.
- - - - - - -
Where we are now
So, here is our latest update on the Diversity at SamKnows: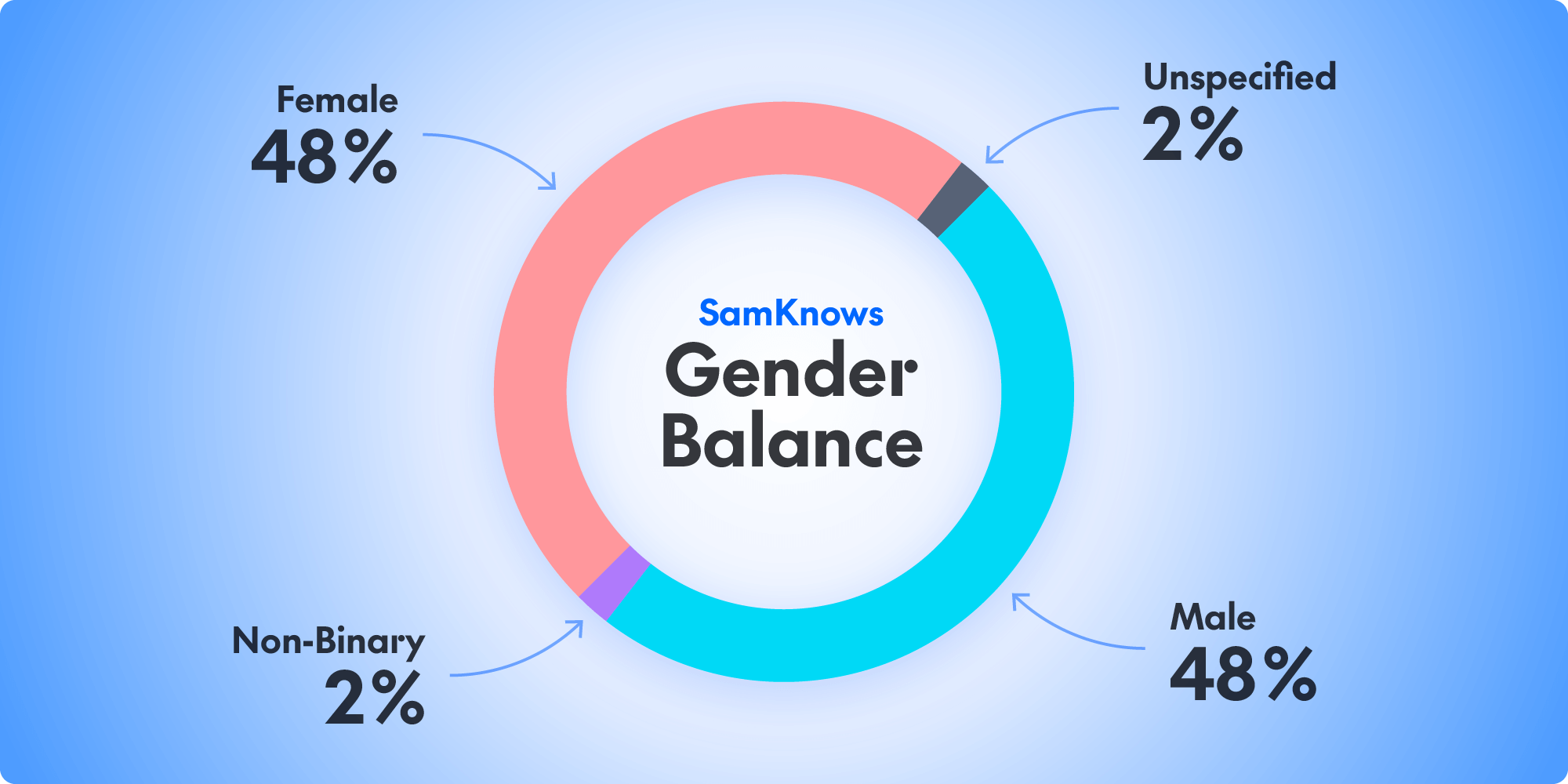 The UK labour market is 49.8% female, although women in tech is only 25%. We are proud of the work we've done to increase the representation of women in the organisation and would like to ensure that we maintain this level of diversity. 
Ethnicity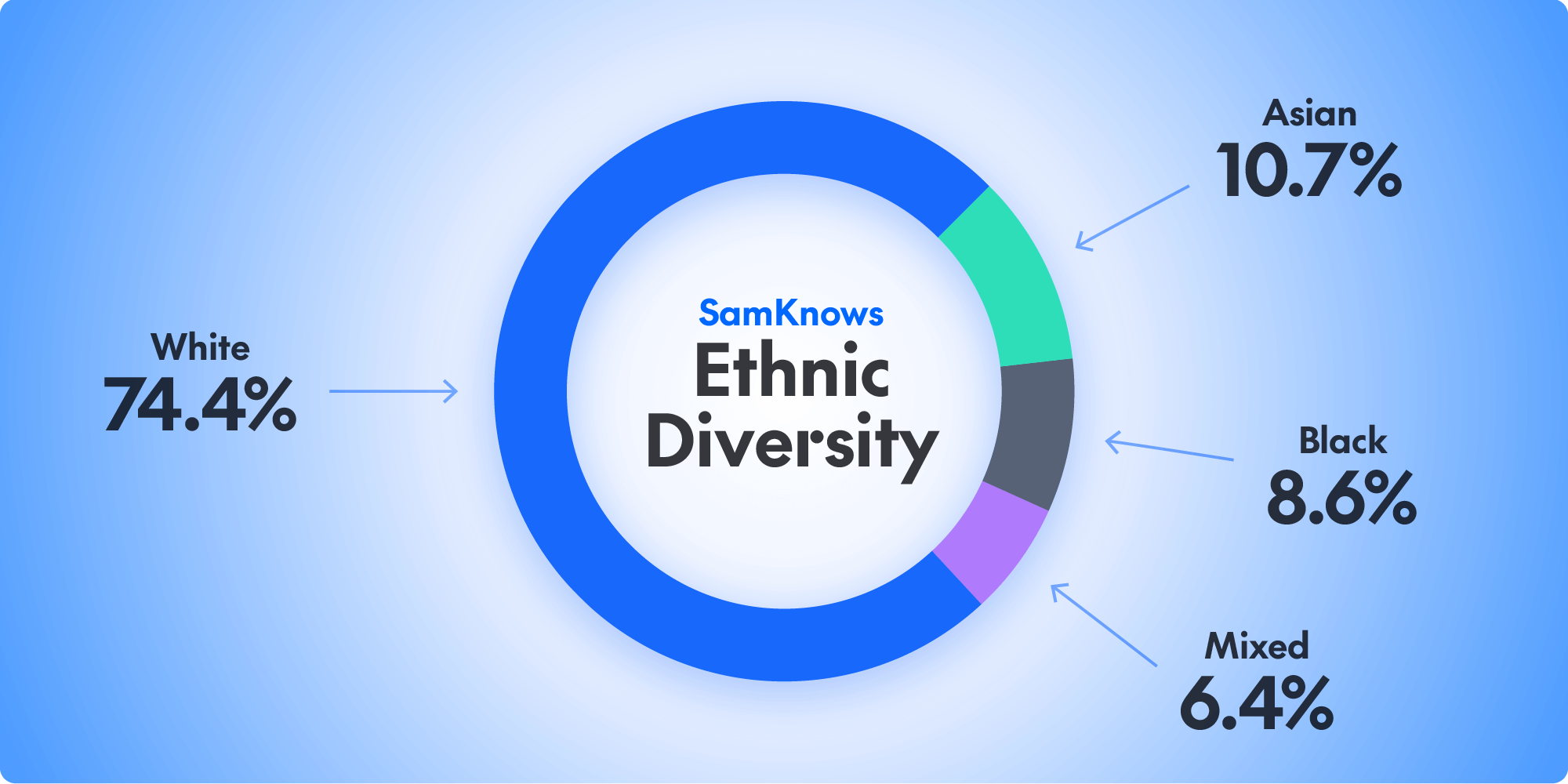 Tech has a marginally higher proportion of people from ethnic minorities compared to the labour market as a whole (15.2% vs 11.8% for all occupations). However, in London this is even higher at 21.4%. Here, we needed to recognise that there is much work to do in increasing our ethnicity representation by 2024. We also acknowledge that all our people managers and executives are White, which must be an area of focus to increase wider ethnic representation in leadership as we grow.
Age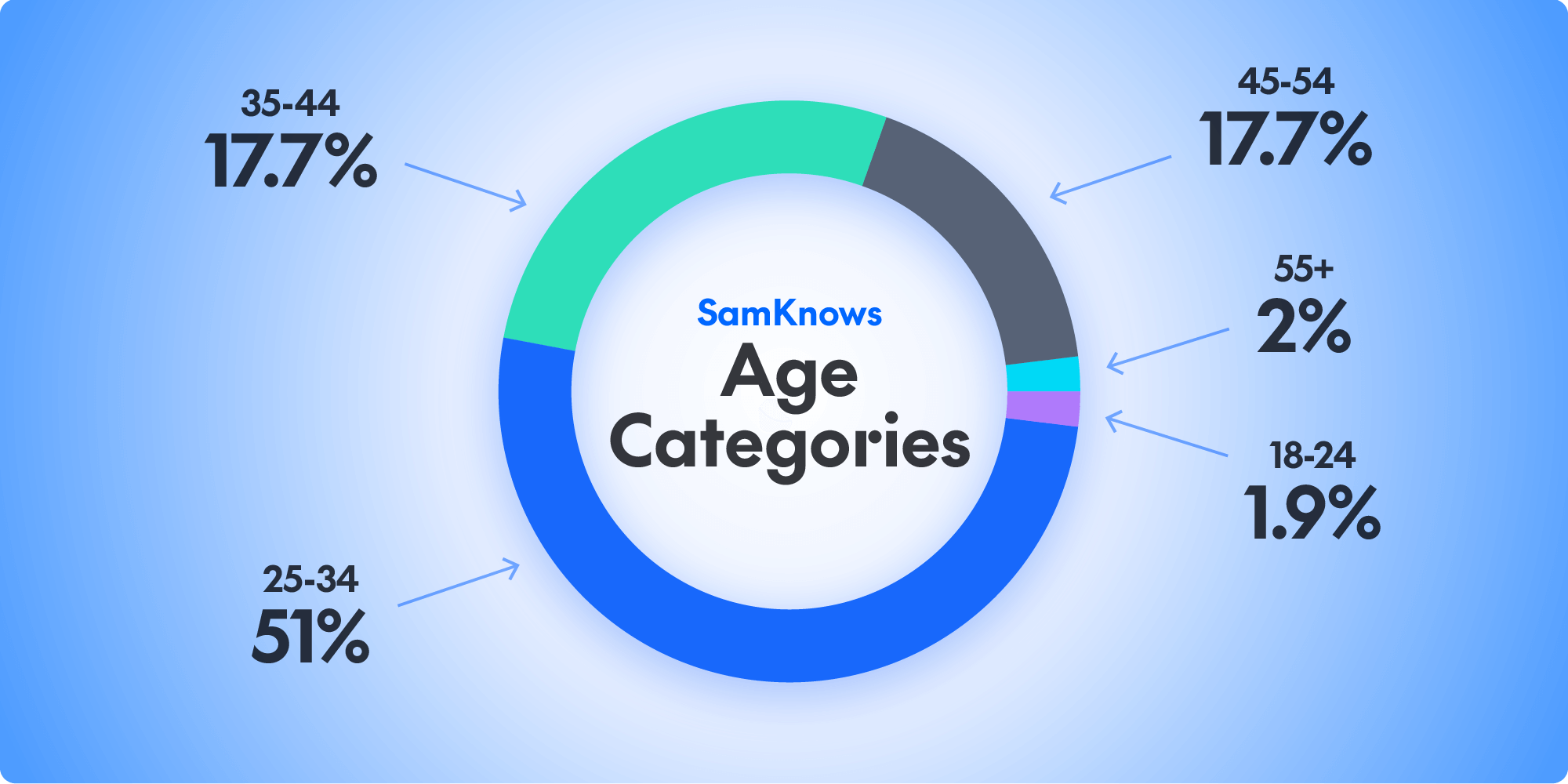 At SamKnows 53% of the workforce is under 35, the UK tech industry average is 42%, the UK labour market average is 39.5%. This is not uncommon for a tech company, what's important in regards to age is that we ensure that we consider the range of ages when improving our policies and the benefits we offer.
We included other demographics in our research too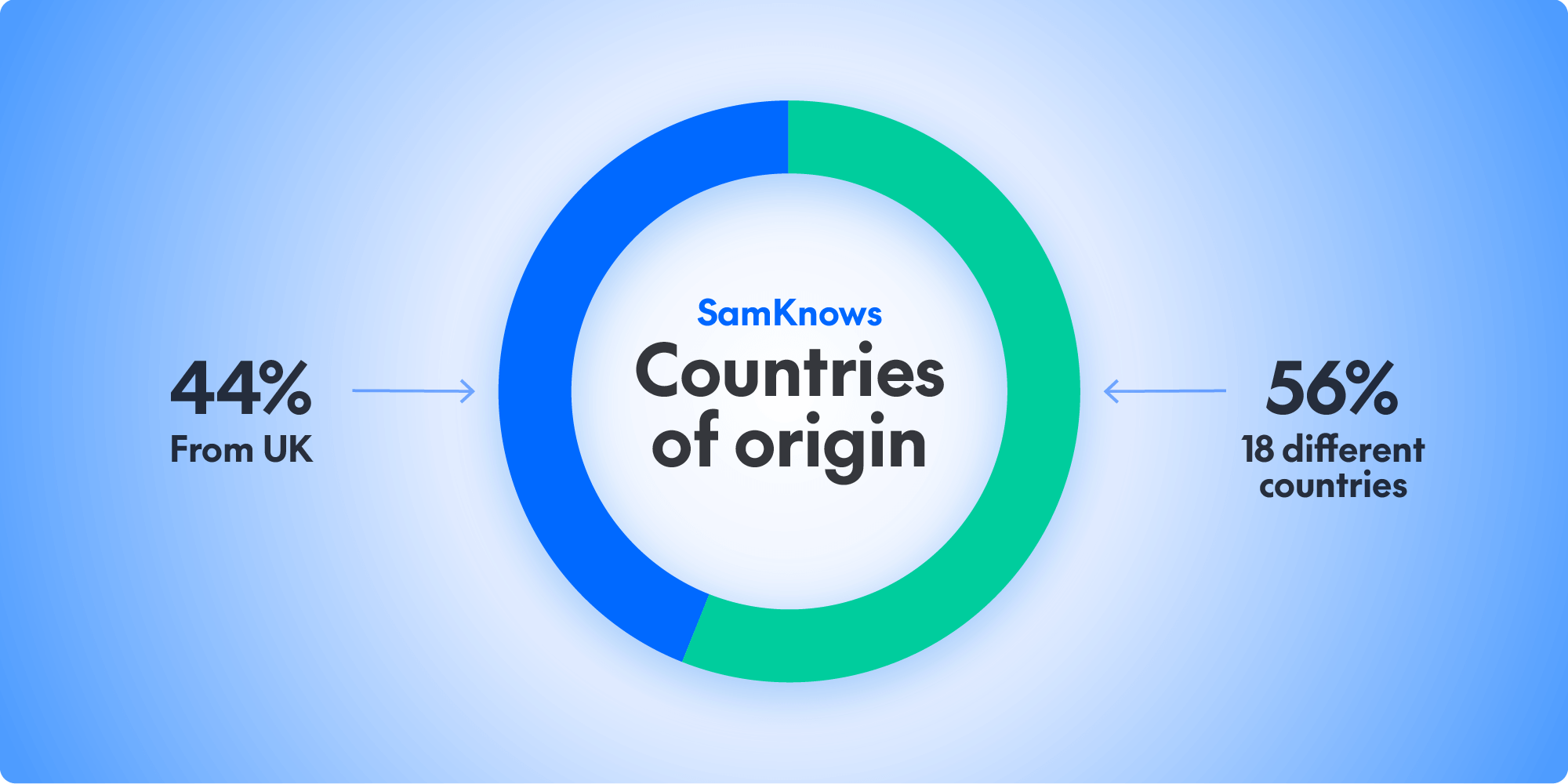 Country of Origin
There are only 56 Sammies, but amazingly we come from 18 different countries, with only 44% from the UK. We think this is really promising and shows the different experiences and cultures represented in our company. 
LGBT+
The majority of our organisation identifies as straight (38.2%) We recognise that it's common for people to be hesitant to share their gender identity or sexual orientation due to fear of discrimination. While we are encouraged that 6.9% of our colleagues felt able to share that they identify as part of the LGBT+ community, we do not take it for granted that 34.6% chose not to respond. It is our aim to make the SamKnows environment a safe space so people feel comfortable to share without fear of judgement, discrimination or prejudice if they choose to do so.
Parents
With regards to parents or carers in the workplace, we currently have 18% who have children.  This is a combination of both primary and secondary parents/carers.
We acknowledge that being part of the minority in any of these demographics or identities can be challenging, and we aim to make decisions and implement policies that are cognisant of this. We want to  create an environment that allows individuals to be comfortable being themselves, and avoid putting pressure on them to educate others about their experiences. Another example is the fact that we received no "yes" responses to access needs and want to ensure that employees trust the way our data is used to create an inclusive environment.
- - - - - - -
Where we hope to be:
We are now in a much better position to make decisions related to diversity and inclusion knowing where we are now. In future, we'd like the report to reflect the intersectionality of diversity. 
One of the SamKnows offices is in London, and given how diverse a city London is, we want SamKnows' workforce to represent that diversity. For example, our ethnicity demographics are 14% higher in white representation compared to the rest of London – we want this to be more representative of London's diversity with 18,5% Asian, 13.3% Black 5%, Mixed race, 44.9% White British and 14.9% White Other by June 2024. To help achieve this, we now have an Internal Recruiter dedicated to the goal of creating a diverse pipeline of candidates.